Dr. Mark J. Sperbeck, D.C., D.A.C.O.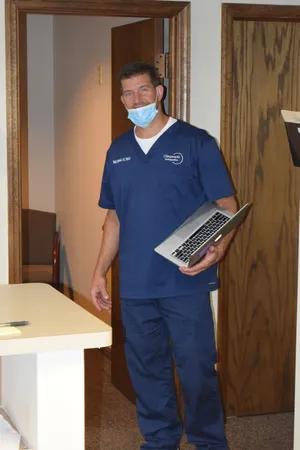 Hi, I'm Dr. Mark Sperbeck. I am a board certified specialist of the Academy of Chiropractic Orthopedists and the owner of The Chiropractic Orthopedics. I have your back! I am passionate about assisting people and having them take control of their health the natural way without drugs or surgery. I am truly blessed in my life and have a lot to be thankful for, including my beautiful wife, Cindy and two amazing boys, Grayson and Ben. I have a great practice with many wonderful patients and a fantastic staff!
I am a graduate from Palmer Chiropractic College in Davenport, IA. In 1996 I received my degree and have been in business for 15 years. I have been serving my community by caring for everyone from infants to seniors. I adjusted my own two boys when they were just minutes old.
I have advanced training in neurology, orthopedics, exercise physiology, nutrition, postural corrective techniques, scoliosis correction, pediatrics and stress management techniques. In addition I am one of only a handful of doctors throughout the world that is trained in a new innovative, non-pharmaceutical treatment for Fibromyalgia. If surgery is necessary, however, we advise patients promptly and refer them to the most qualified specialists in our community.
My main goal is the same as yours. Get you out of pain fast so you can get back to enjoying your life in the least amount of visits possible!